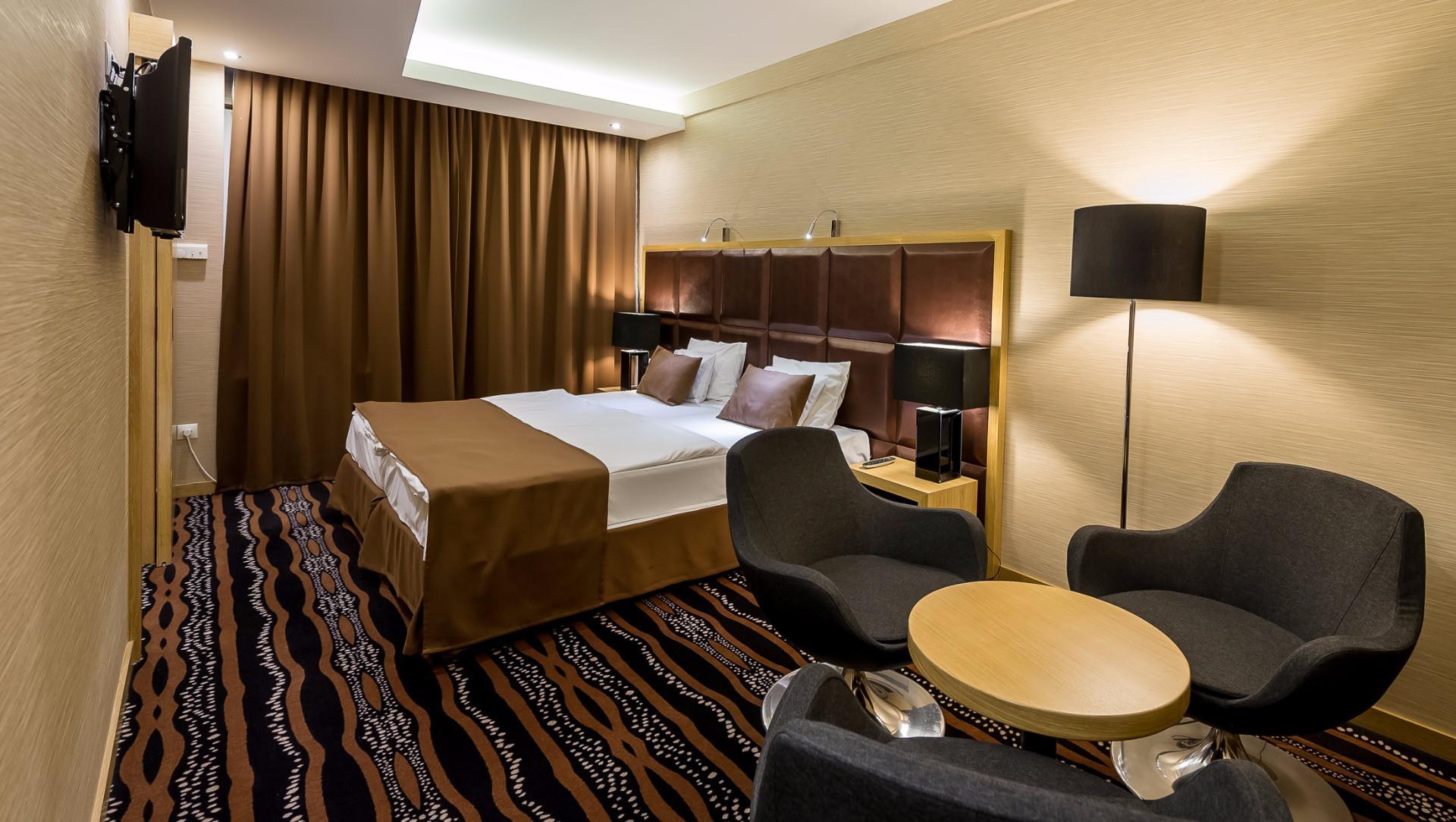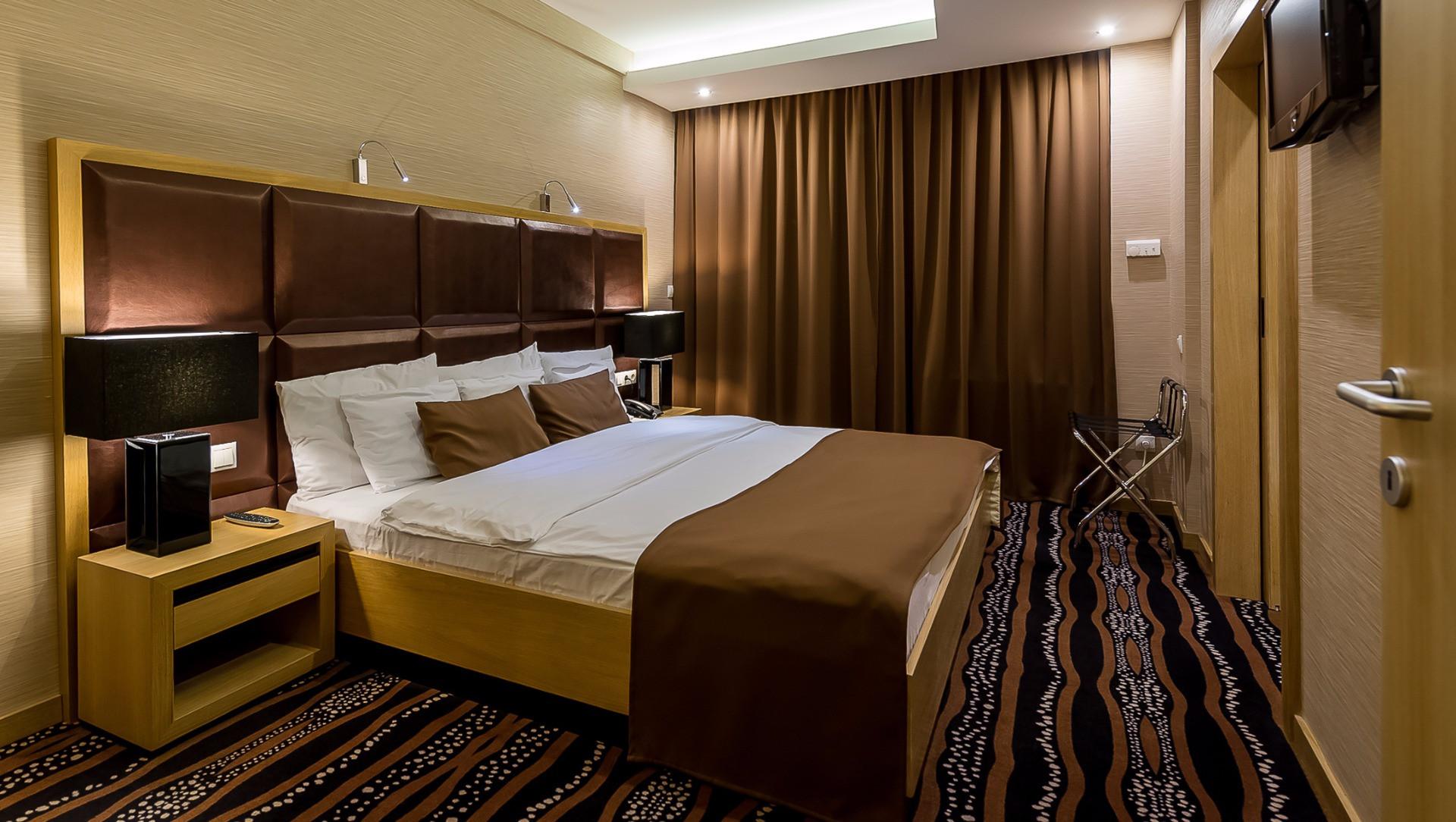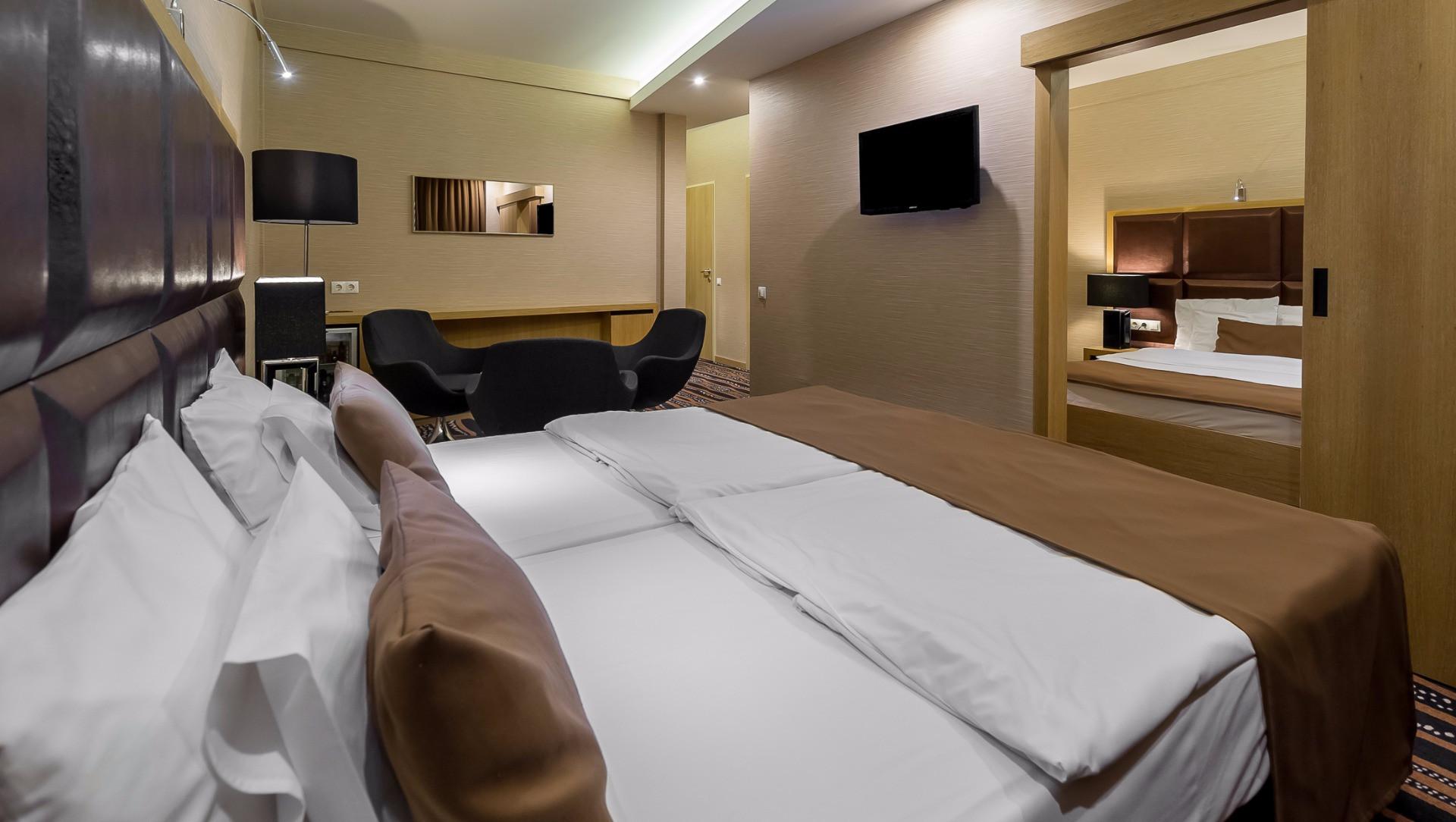 Deluxe Suite
Our hotel has a total of 20 Deluxe Suites (16 Exclusive Deluxe Suites and 4 Family Deluxe Suites).
Our Suites with two separate rooms offer a perfect opportunity to guests who would like to rest up from the challenges of the weekdays in an suite, but separated from each other. This suite is a perfect choice for families where the parents and the children would like to relax separately, but in the right vicinity of each other. We recommend it even for group of friends of 3-4, as they do not even need to leave their rooms for an evening conversation or for a game of cards. The comfort of the guests of this room type is served by the large floor area, as well. The suite is made up of two separable bedrooms, a bathroom with separate bathtub and a spacious toilet. In the one room, there is a comfortable double bed and in the other, there are two single beds to ensure relaxation. With a view to the demands of our guests, we equipped both rooms with a TV device.
Our guests choosing the Deluxe Suite can enjoy the idyll of the Great Forest in their large balcony.
Our Exclusive Deluxe Suites having one double bed and two single beds were made in the spirit of the symbiosis of the modern shapes and the colours of Nature.
In our Family Deluxe Suites there are two single beds, a double pull out sofa bed and a bunk bed to ensure the comfort of even a family of five (maximum 3 of them can be adults). These suites perfectly alloy the youthful energy with the family intimacy.
In addition to the services below, of course each room has free WIFI access, telephone, reading lamp, hairdryer, minibar, room service, unique bathroom amenities (shampoo, shower gel, soap, body lotion, shower cap) and bathrobes for adults.
Rooms
Deluxe Suite
Double Rooms
Junior Suite
Luna Deluxe Suite
Sol Deluxe Suite
Terra Deluxe Suite
Bathroom
Bathroom
1 bathroom with bath and 1 separate toilet
Bathroom
Exclusive type 1 bathroom with double shower; Family type 1 bathroom with bathtub
Bathroom
Exclusive type 1 bathroom with double shower; Family type 1 bathroom with bathtub
Bathroom
1 bathroom with double shower and large round bathtub
Bathroom
2 bathrooms with double shower experience
Bathroom
1 bathroom with experience shower and 1 bathroom with large oval bathtub and double washbasin
Bedroom
Bedroom
In exclusive type: 1 double bed (180*200 cm) and 2 single beds (90*200 cm) combined. Family type: 2 single beds (90*200 cm), pull-out sofa bed (140*200 cm), bunk bed (80*215 cm)
Bedroom
Exclusive type: 1 double bed, 1 pull-out sofa bed (140*200 cm); Family type: 1 double bed (180*200 cm), 1 pull-out sofa bed (140*200 cm), 1 bunk bed (80*215 cm)
Bedroom
Exclusive type: 1 double bed, 1 pull-out sofa bed (140*200 cm); Family type: 1 double bed (180*200 cm), 1 pull-out sofa bed (140*200 cm), 1 bunk bed (80*215 cm)
Bedroom
1 double bed (180*200 cm), 1 pull-out sofa bed (140*200 cm)
Bedroom
1 double bed (160*200 cm), 1 double bed (180*200 cm), 1 sofa bed (140*200 cm)
Bedroom
1 double bed (180*200 cm), 1 pull-out sofa bed (140*200 cm), 1 L-shaped sofa bed