Family oasis
The Indoor Aquapark is a true oasis for our guests. The tropical setting and the variety of experiences in our pools create a special atmosphere where young and old can discover the mysteries of the Aquaticum together. Adults can relax from the stresses of everyday life in the Thermal Baths, enjoy our sauna programmes and pampering wellness treatments.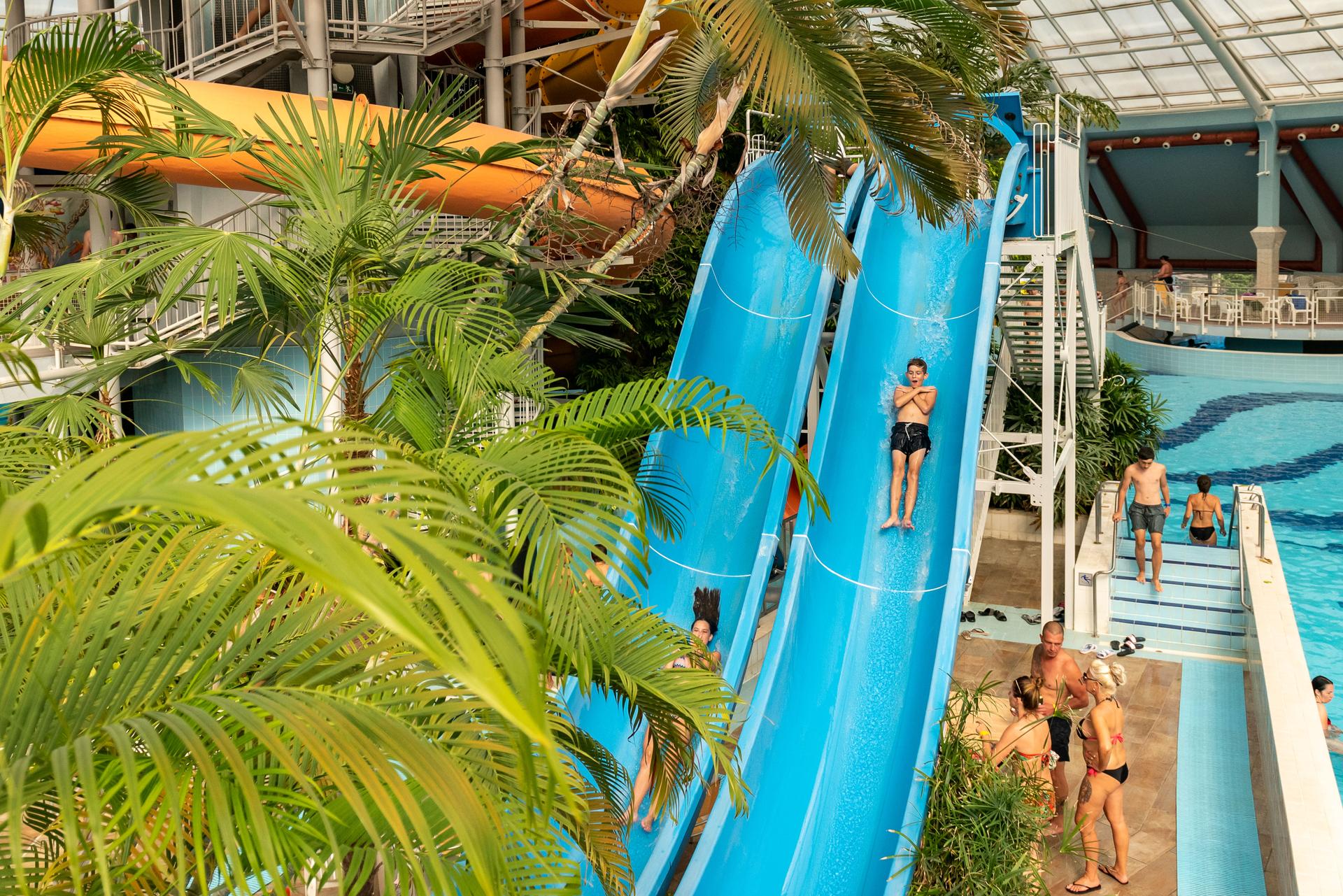 Our autumn offer includes:
🍽️ accommodation with half board (rich buffet breakfast and dinner at Natura Restaurant),
🥂 Snack Bar 15:00-18:00,
💦 unlimited use of the Thermal pools (subject to opening hours),
🌊 unlimited use of the Aquaticum Mediterranean Pools (subject to opening hours), 1 extra hour for hotel guests only, Monday to Thursday from 10.00 to 11.00
🧖‍♀ Use of Sauna World and Sauna Centre,
🥼 use of bathrobes,
🏋 Use of the Fitness Room,
🧸 Use of a Giant Playroom,
💻 free wifi connection in the hotel,
🍸 welcome drink on arrival,
💵 VAT and service charge for all main meals included in the package.
Our prices do not include the use of parking. Parking fee in the underground car park is 3.000 HUF/car/night, in the surface car park 4.000 HUF/car/night.
Tourist tax is not included in the price and is payable separately for persons over 18 years of age. It is 400 HUF/person/night.
Our autumn break programme offer
27 October 2023, Friday
Our Guests are entertained by our singer playing pleasant music in the evening
28 October 2023, Saturday
Free mole screening
Flying ball battle
Interactive competition: testing your senses (sight, hearing, smell, touch)
Exotic animal show and petting
Autumn Festival Party: Traditional and popular hits of our country will be played during the evening, with exciting Children and families can compete in exciting games for prizes- Aqua Manó Party
Balloon folding - Peti the Clown will make his favourite balloon
29 October 2023, Sunday
Creative handicraft programme
Walt Disney fairy tales and famous film scores performed by Arco Nobile String Quartet
30 October 2023, Monday
Creative handicraft programme
Our Guests are entertained by our singer playing pleasant music in the evening
Glitter body painting - ask for your favourite pattern and choose the colourful silk powder and sequins to match your glitter tattoo
31 October 2023, Tuesday
Exatlon Kids: take part in the 5 skill challenges
Halloween trick-or-treating and scavenger hunt in front of the Hotel
Halloween Party: a costumed family party with spooky games and a mystery gift - Aqua Mano Party, musical family animation
1 November 2023, Wednesday
Creative handicraft programme
Our Guests are entertained by our singer playing pleasant music in the evening
2 November 2023, Thursday
Ping-pong duel
Labyrinth race: speed obstacle course in the maze
UV Party: shine in the night! Try your hand at the most fun games, enjoy being the most luminous of the winners. Wear white or neon if you can! - Aqua Manó Party: musical family animation
3 November 2023, Friday
Creative handicraft programme
Exotic animal show and petting
Our Guests are entertained by our singer playing pleasant music in the evening
Glitter body painting - ask for your favourite pattern and choose the colourful silk powder and sequins to match your glitter tattoo
4 November 2023, Saturday
House foosball tournament
Autumn adventure tour around the hotel. Let's discover together •
Hollywood movie stars: we dance to movie hits on the red carpet, kids and parents show off their skills in a clever duel, and a gift for every little movie star - Aqua Mano Party: musical family animation
Balloon folding - Peti the Clown will make his favourite balloon