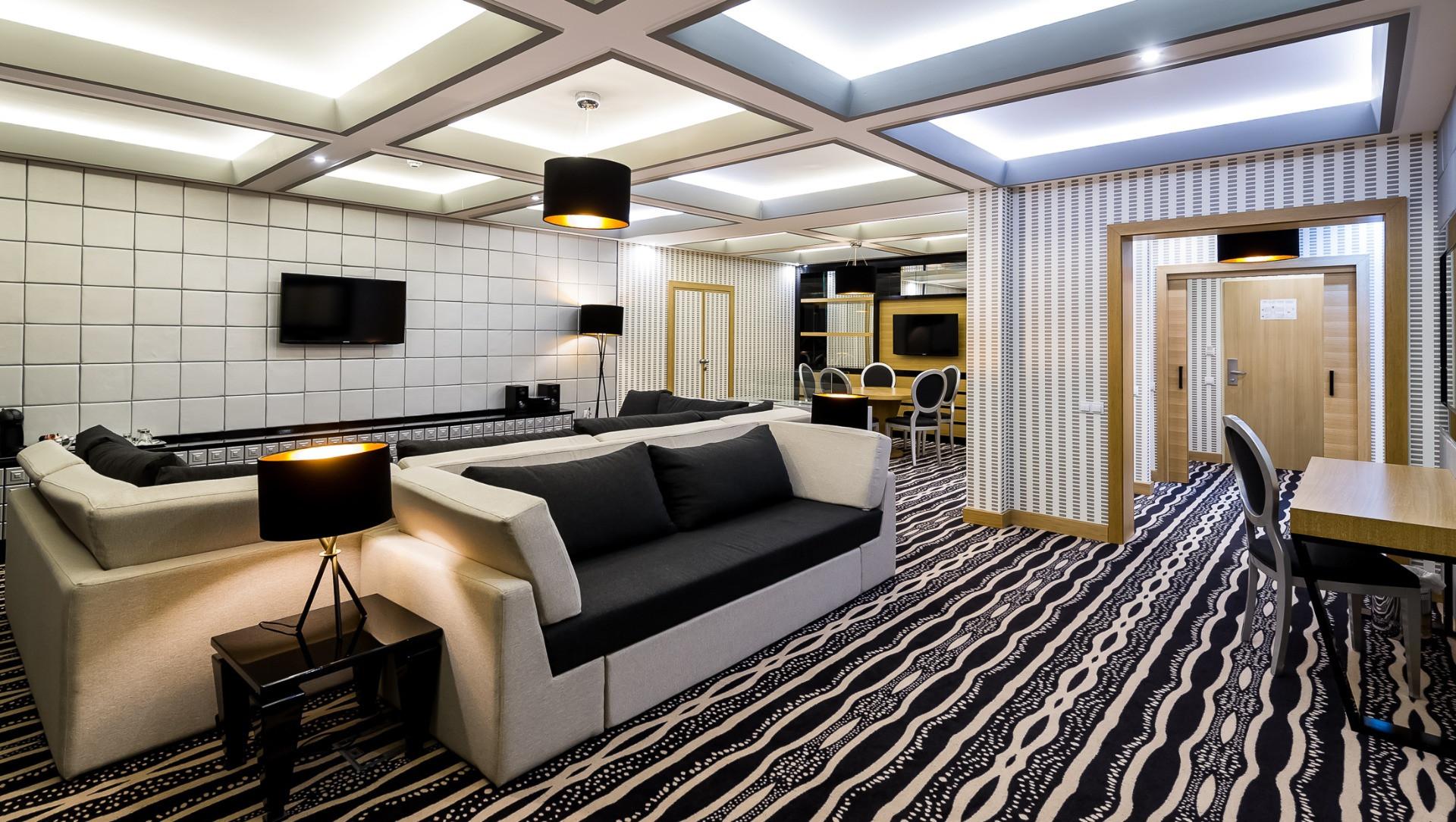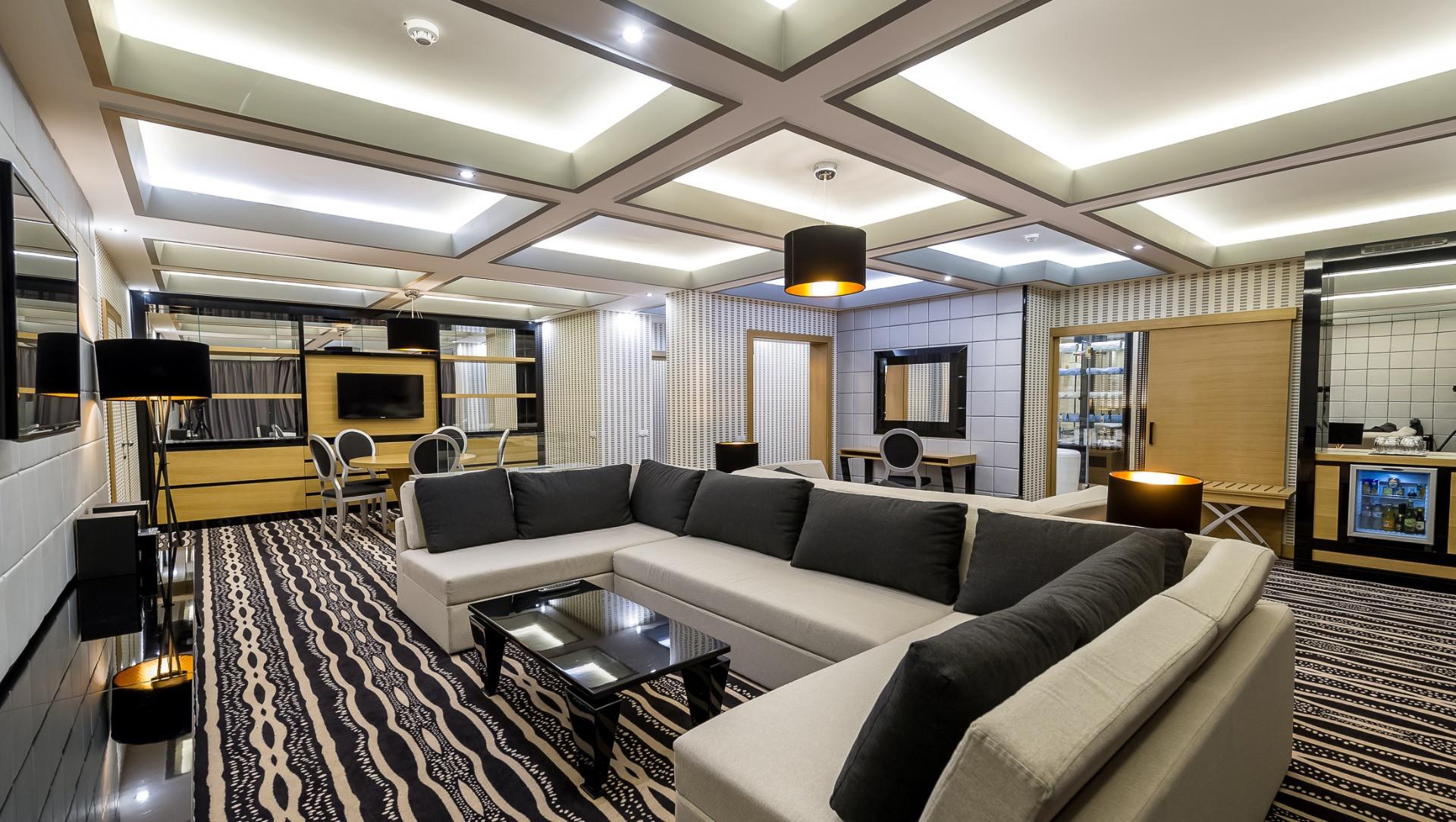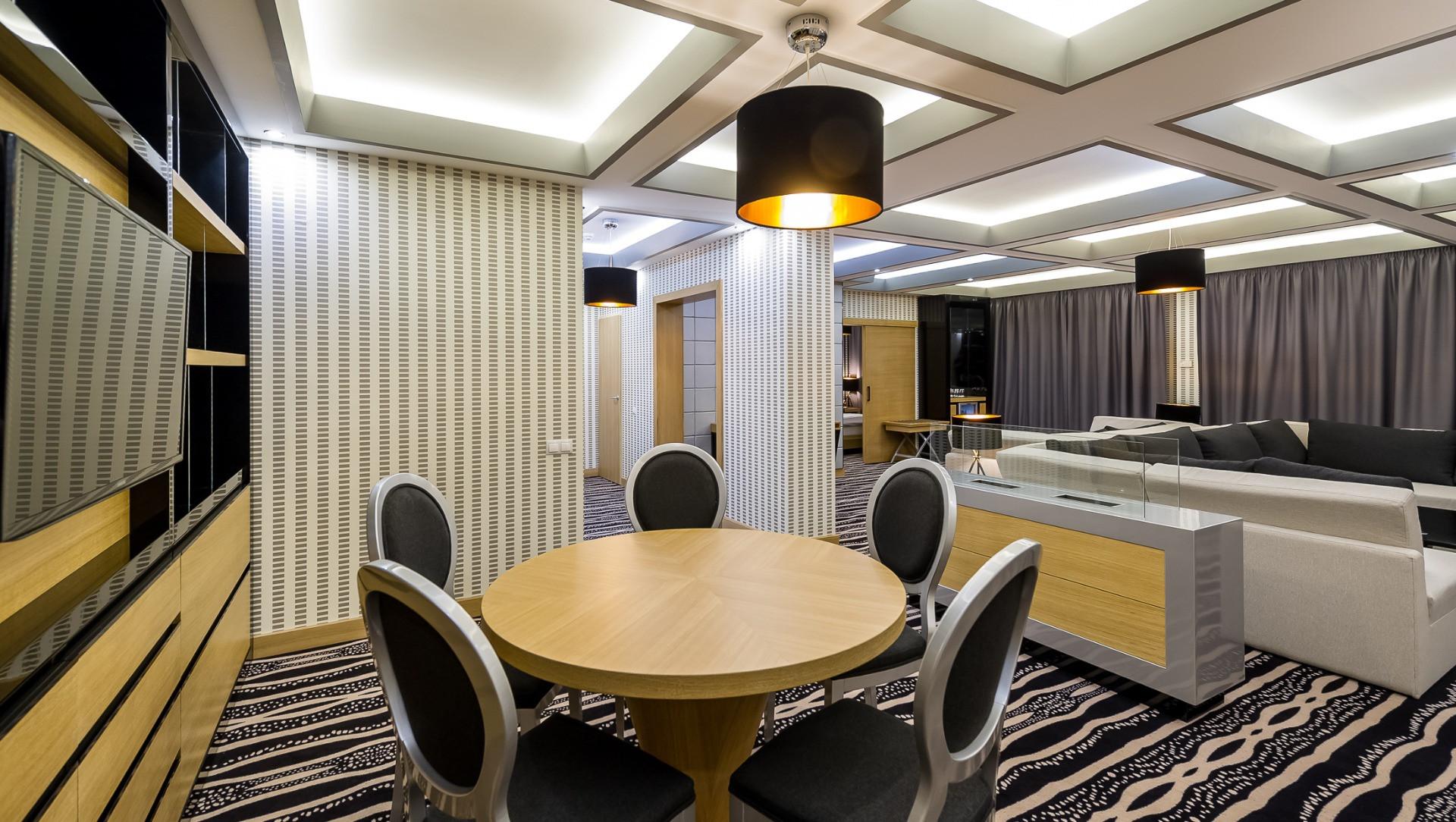 Terra Deluxe Suite
Our hotel has 1 Terra Deluxe Suite.
The Terra Deluxe is one of the largest Suites of our hotel. Superbly equipped, this suite with its unique interior design immediately catches one's attention. The bedroom and the living room – suitable for business negotiations – indicate high standards. The impressive multi-function living room, divided in two by a modern heater, contains at one end a pull-out sofa bed and a large size sofa from which the guests can watch the 40 inch TV and at the other, a table and chairs with the seating capacity of up to 6 persons where business negotiations can also be held thanks to to a installed 40 "monitor that can be connected to a laptop here.
The Suite's amenities include two televisions and a mini hi-fi. Thanks to its design, the Terra Deluxe Suite is one of the gems of our hotel, featuring two balconies and two bathrooms. One of the bathrooms, separated from the bedroom by a glass screen, offers the feel of luxury with its oval bathtub and two stylish washbasins. The other bathroom contains a shower cabin equipped with a pulsating shower, a large mirror and a matching washbasin.
The Terra Deluxe Suite has an impressive location as it is only a flight of stairs away from the corridor leading directly to the thermal bath, and its large balcony offers a superb view to the beautiful Great Forest and the thermal bath's external pool. Guests staying in the Suite will experience the tranquillity of nature, and the special sight of the mist rising in the colder mornings from the thermal bath makes one's stay even more memorable. The size of the Suite is 86 m2.
In addition to the services below, of course all our rooms have free WIFI access, telephone, reading lamp, hairdryer, minibar, room service, custom bathroom amenities (shampoo, shower gel, soap, body lotion, shower cap) and bathrobes for adults.
Rooms
Terra Deluxe Suite
Double Rooms
Junior Suite
Deluxe Suite
Luna Deluxe Suite
Sol Deluxe Suite
Bathroom
Bathroom
1 bathroom with experience shower and 1 bathroom with large oval bathtub and double washbasin
Bathroom
Exclusive type 1 bathroom with double shower; Family type 1 bathroom with bathtub
Bathroom
Exclusive type 1 bathroom with double shower; Family type 1 bathroom with bathtub
Bathroom
1 bathroom with bath and 1 separate toilet
Bathroom
1 bathroom with double shower and large round bathtub
Bathroom
2 bathrooms with double shower experience
Bedroom
Bedroom
1 double bed (180*200 cm), 1 pull-out sofa bed (140*200 cm), 1 L-shaped sofa bed
Bedroom
Exclusive type: 1 double bed, 1 pull-out sofa bed (140*200 cm); Family type: 1 double bed (180*200 cm), 1 pull-out sofa bed (140*200 cm), 1 bunk bed (80*215 cm)
Bedroom
Exclusive type: 1 double bed, 1 pull-out sofa bed (140*200 cm); Family type: 1 double bed (180*200 cm), 1 pull-out sofa bed (140*200 cm), 1 bunk bed (80*215 cm)
Bedroom
In exclusive type: 1 double bed (180*200 cm) and 2 single beds (90*200 cm) combined. Family type: 2 single beds (90*200 cm), pull-out sofa bed (140*200 cm), bunk bed (80*215 cm)
Bedroom
1 double bed (180*200 cm), 1 pull-out sofa bed (140*200 cm)
Bedroom
1 double bed (160*200 cm), 1 double bed (180*200 cm), 1 sofa bed (140*200 cm)