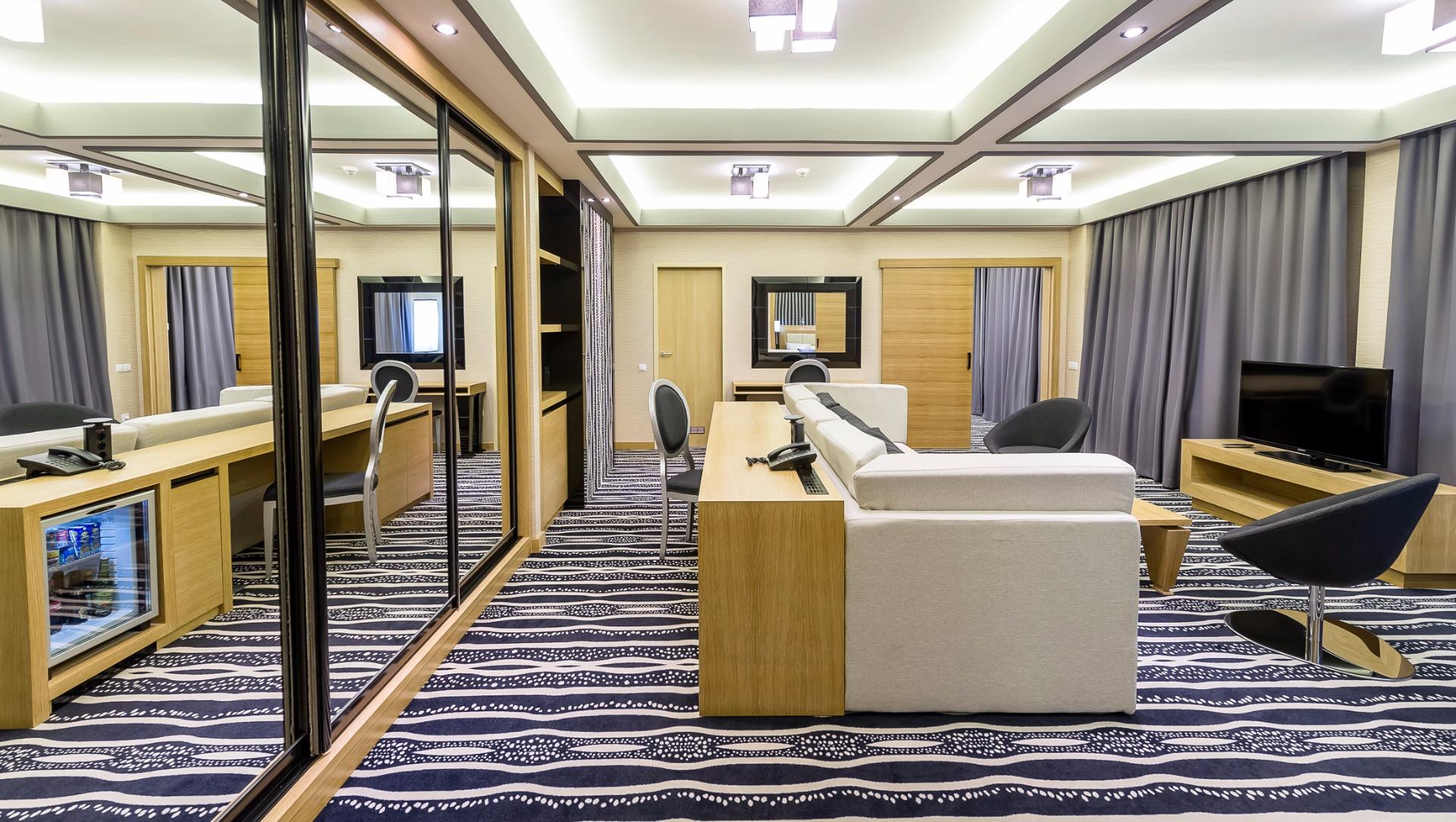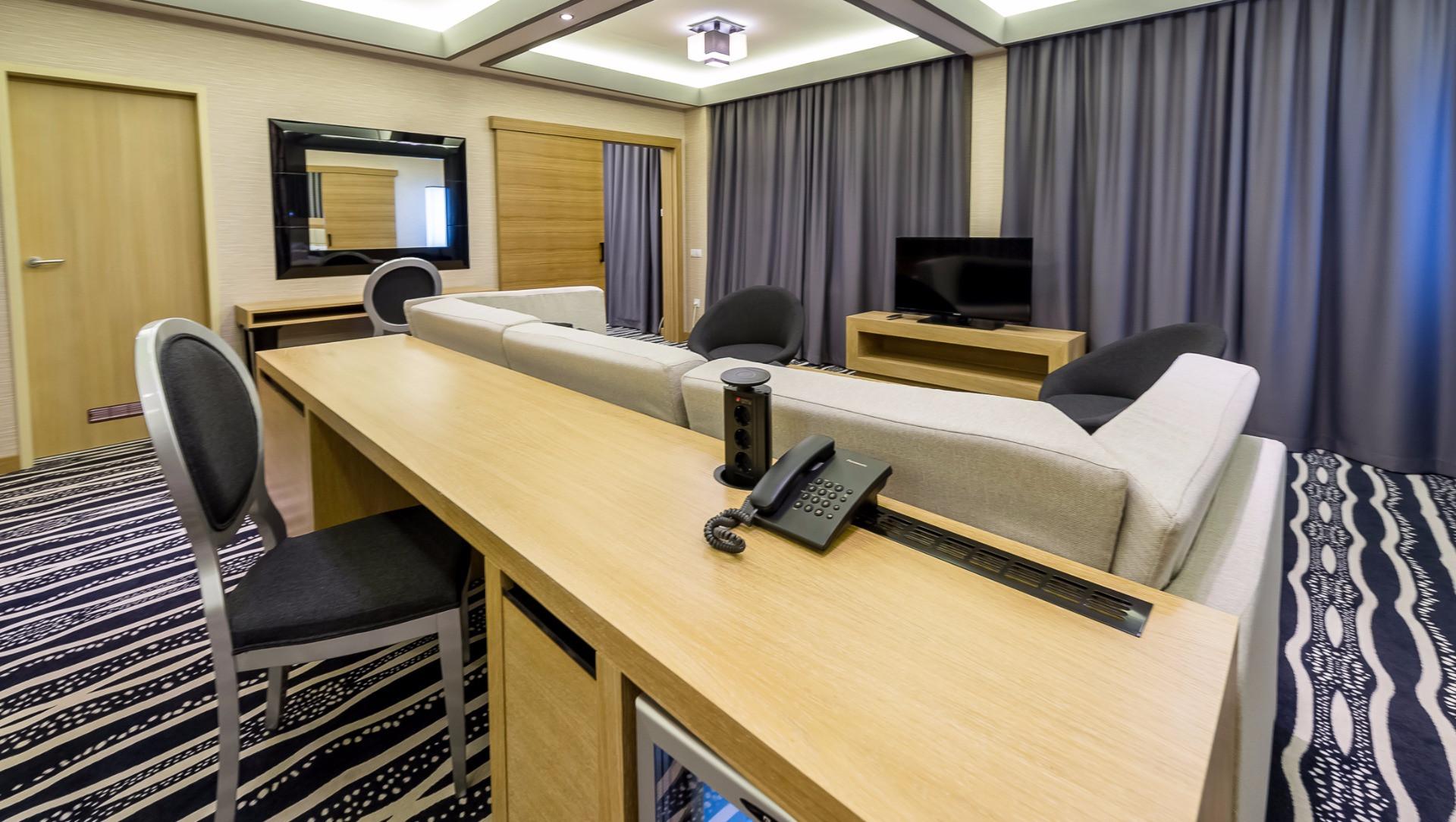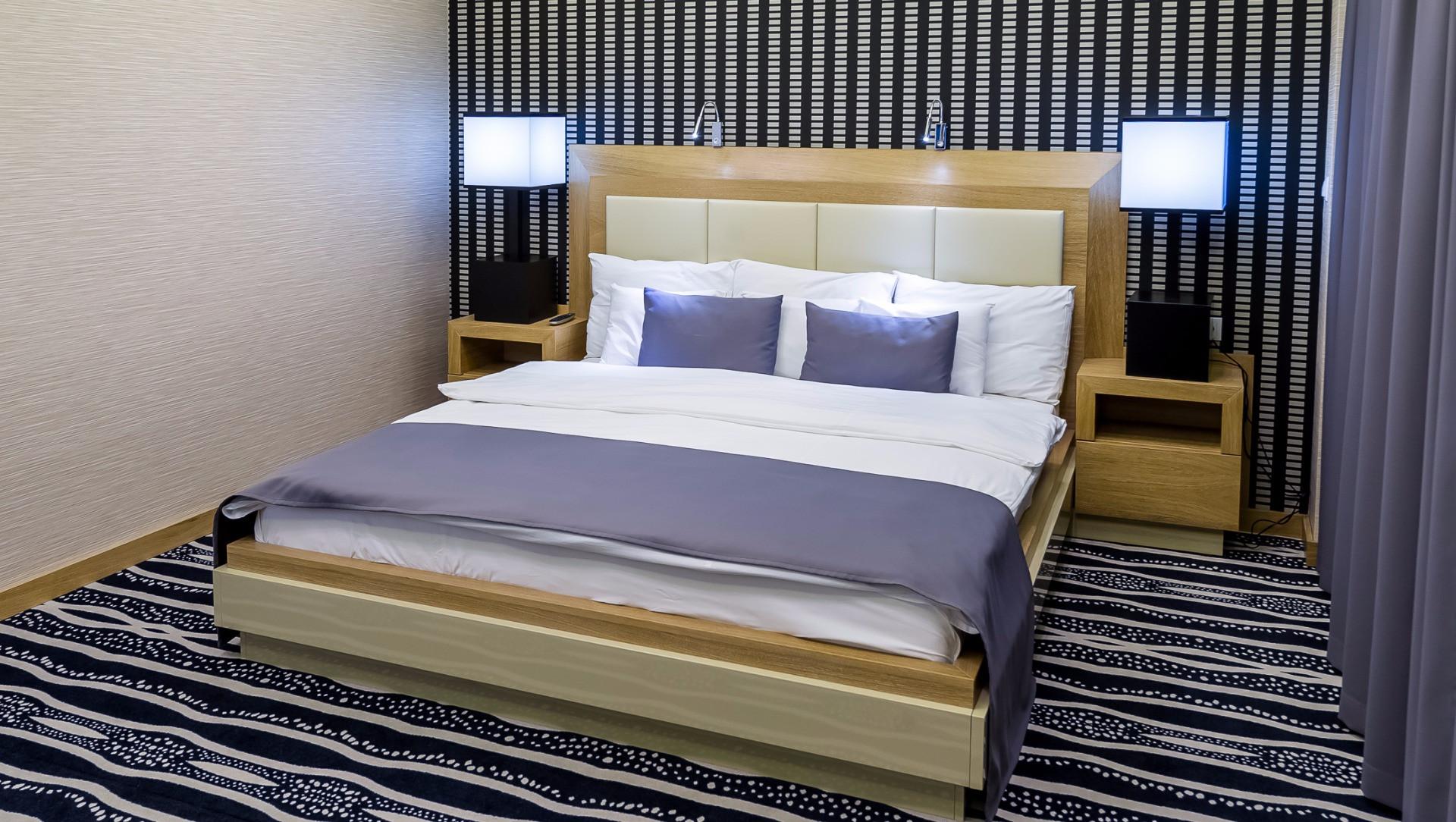 Sol Deluxe Suite
Our hotel has 1 Sol Deluxe Suite.
We did not forget about couples with more children even when it came to the design of our higher category rooms. The Sol Deluxe Suite lying in the Family Wing is the biggest in our hotel with its three air spaces, so it provides a perfect solution also for families with 4 children. The sun-bathed room is characterised by a unique interior – it has 2 bedrooms and a large living room, thus it entirely fulfils the requirements of families with more children. There is a double bed in both bedrooms and a comfortable pull-out sofa bed in the living room for two children.
There are two bathrooms in the Sol Deluxe Suite, and all three rooms are equipped with a television. It was important for us not to deprive children of the comfortable experience of reading and colouring, thus this suite has a bigger desk table. Our Guests can enjoy the air of Great Forest on the especially long balcony of the suite.
In addition to the services below, of course all our rooms have free WIFI access, telephone, reading lamp, hairdryer, minibar, room service, custom bathroom amenities (shampoo, shower gel, soap, body lotion, shower cap) and bathrobes for adults.
Rooms
Sol Deluxe Suite
Double Rooms
Junior Suite
Deluxe Suite
Luna Deluxe Suite
Terra Deluxe Suite
Bathroom
Bathroom
2 bathrooms with double shower experience
Bathroom
Exclusive type 1 bathroom with double shower; Family type 1 bathroom with bathtub
Bathroom
Exclusive type 1 bathroom with double shower; Family type 1 bathroom with bathtub
Bathroom
1 bathroom with bath and 1 separate toilet
Bathroom
1 bathroom with double shower and large round bathtub
Bathroom
1 bathroom with experience shower and 1 bathroom with large oval bathtub and double washbasin
Bedroom
Bedroom
1 double bed (160*200 cm), 1 double bed (180*200 cm), 1 sofa bed (140*200 cm)
Bedroom
Exclusive type: 1 double bed, 1 pull-out sofa bed (140*200 cm); Family type: 1 double bed (180*200 cm), 1 pull-out sofa bed (140*200 cm), 1 bunk bed (80*215 cm)
Bedroom
Exclusive type: 1 double bed, 1 pull-out sofa bed (140*200 cm); Family type: 1 double bed (180*200 cm), 1 pull-out sofa bed (140*200 cm), 1 bunk bed (80*215 cm)
Bedroom
In exclusive type: 1 double bed (180*200 cm) and 2 single beds (90*200 cm) combined. Family type: 2 single beds (90*200 cm), pull-out sofa bed (140*200 cm), bunk bed (80*215 cm)
Bedroom
1 double bed (180*200 cm), 1 pull-out sofa bed (140*200 cm)
Bedroom
1 double bed (180*200 cm), 1 pull-out sofa bed (140*200 cm), 1 L-shaped sofa bed