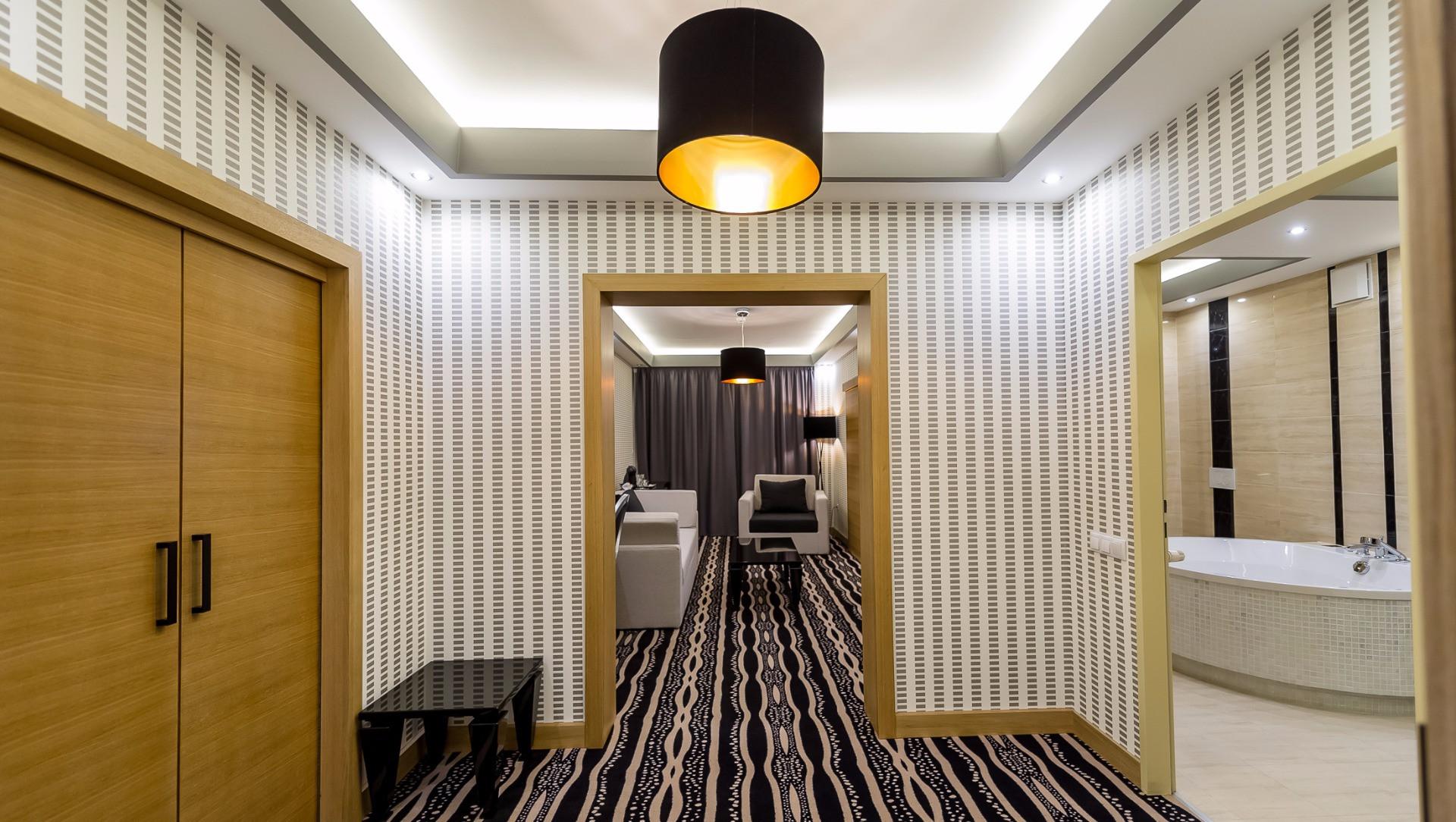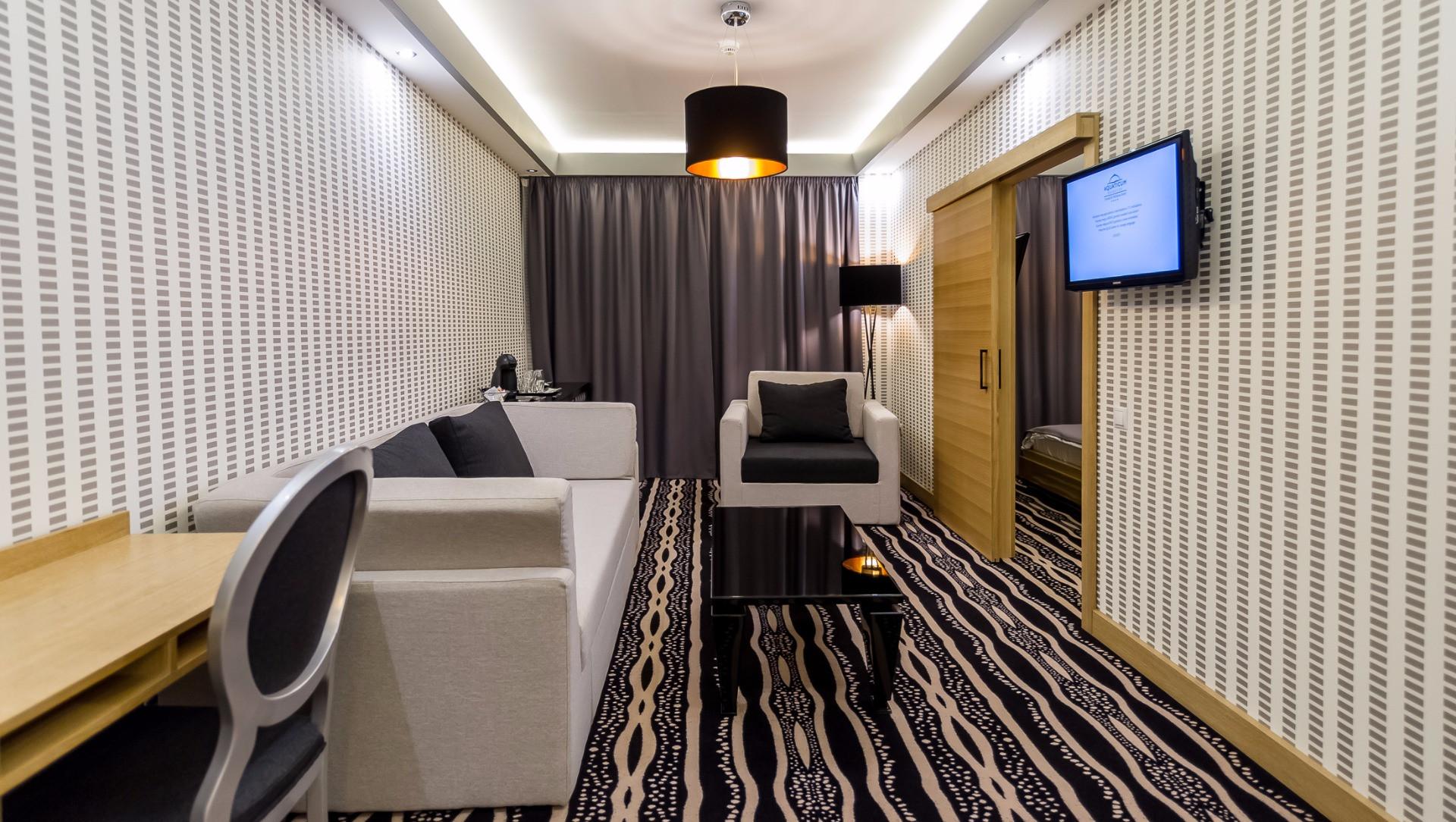 Luna Deluxe Suite
Our hotel offers one Luna Deluxe Suite.
Situated in the neighbourhood and designed in the style of the Terra Deluxe Suite, the Luna Deluxe Suite can easily place itself at the heart of our guests with its unique internal design, modern furniture and elegant colours. The two-room suite is a perfect choice for families who enjoy exclusive surroundings. The suite is made up of a bedroom with a double bed and a living room in which a pull-out sofa bed ensuring the rest for the children. The comfort of our guests is ensured not only by the large television in each room, but a sound system, as well.
Also the bathroom of the Luna Deluxe Suite is of highest standard. It is an experience to have a bath both in the round bathtub and in the shower cabin which is equipped with a luxurious power shower.
The exclusivity of the Luna Deluxe Suite comes from its location, as well, since it is only a flight of stairs away from the corridor leading directly to the thermal bath, and its balcony offers a superb view to the beautiful Great Forest and the thermal bath's outdoor pool.
The special sight of the mist rising in the colder mornings from the thermal bath is the icing on the cake, making one's stay even more memorable.
In addition to the services below, of course all our rooms have free WIFI access, telephone, reading lamp, hairdryer, minibar, room service, custom bathroom amenities (shampoo, shower gel, soap, body lotion, shower cap) and bathrobes for adults.
Rooms
Luna Deluxe Suite
Double Rooms
Junior Suite
Deluxe Suite
Sol Deluxe Suite
Terra Deluxe Suite
Bathroom
Bathroom
1 bathroom with double shower and large round bathtub
Bathroom
Exclusive type 1 bathroom with double shower; Family type 1 bathroom with bathtub
Bathroom
Exclusive type 1 bathroom with double shower; Family type 1 bathroom with bathtub
Bathroom
1 bathroom with bath and 1 separate toilet
Bathroom
2 bathrooms with double shower experience
Bathroom
1 bathroom with experience shower and 1 bathroom with large oval bathtub and double washbasin
Bedroom
Bedroom
1 double bed (180*200 cm), 1 pull-out sofa bed (140*200 cm)
Bedroom
Exclusive type: 1 double bed, 1 pull-out sofa bed (140*200 cm); Family type: 1 double bed (180*200 cm), 1 pull-out sofa bed (140*200 cm), 1 bunk bed (80*215 cm)
Bedroom
Exclusive type: 1 double bed, 1 pull-out sofa bed (140*200 cm); Family type: 1 double bed (180*200 cm), 1 pull-out sofa bed (140*200 cm), 1 bunk bed (80*215 cm)
Bedroom
In exclusive type: 1 double bed (180*200 cm) and 2 single beds (90*200 cm) combined. Family type: 2 single beds (90*200 cm), pull-out sofa bed (140*200 cm), bunk bed (80*215 cm)
Bedroom
1 double bed (160*200 cm), 1 double bed (180*200 cm), 1 sofa bed (140*200 cm)
Bedroom
1 double bed (180*200 cm), 1 pull-out sofa bed (140*200 cm), 1 L-shaped sofa bed