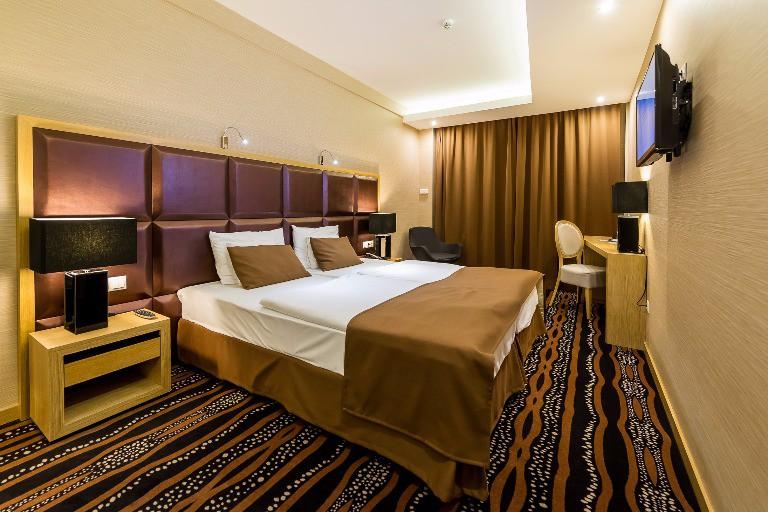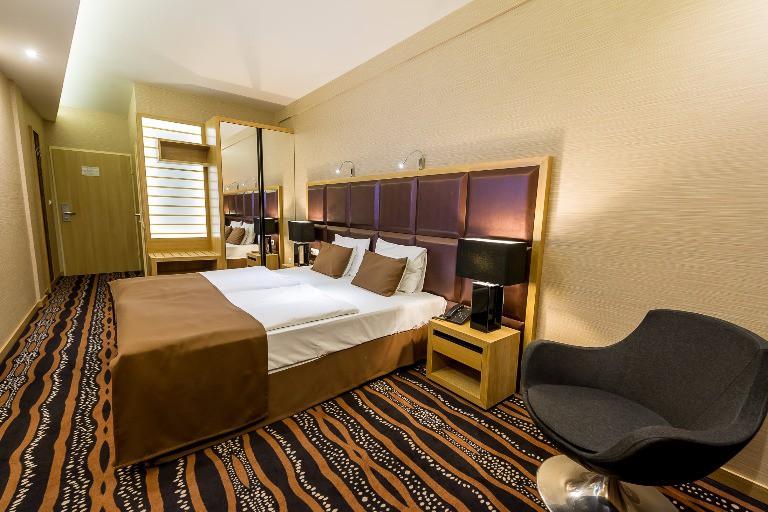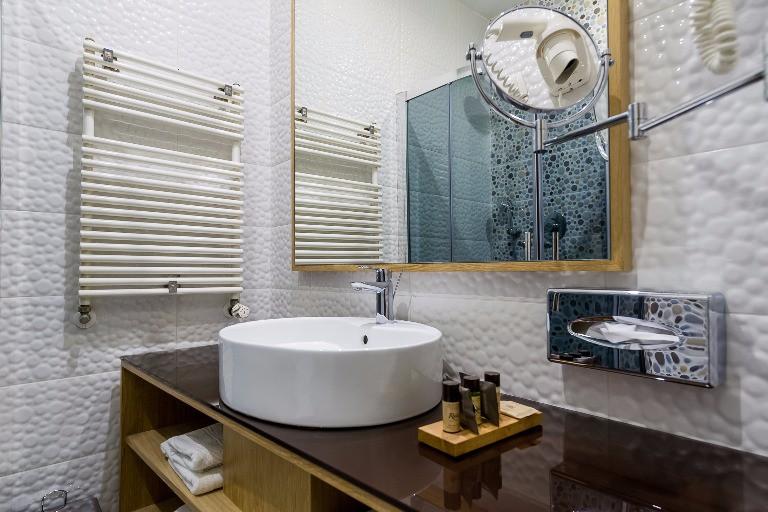 Double Rooms
Our hotel has a total of 54 double rooms (39 exclusive double rooms and 15 family double rooms). In addition, there are also 2 handicapped rooms.
Depending on one's desire, one can select from two double rooms of different layouts.
Our exclusively designed rooms await our Guests with welcoming colours and natural elegance. The double rooms are perfect choice for businessmen and couples, as well.
The family double rooms can be augmented with an extra bed presenting an ideal solution for guests with small child. The rooms facing south are the perfect combinations of the colours reflecting the sound of Nature, the comfort and the functionality.
In the family side of our Hotel, there is the possibility to reserve rooms that can be connected with each other ensuring the direct communication between the two rooms for groups of friends and for families with older kids.
Guests who are physically disabled can enjoy complete recreation in our two specially designed handicapped rooms.
In addition to the services below, of course each room has free WIFI access, telephone, reading lamp, hairdryer, minibar, room service, unique bathroom amenities (shampoo, shower gel, soap, body lotion, shower cap) and bathrobes for adults.
Rooms
Double Rooms
Junior Suite
Deluxe Suite
Luna Deluxe Suite
Sol Deluxe Suite
Terra Deluxe Suite
Bathroom
Bathroom
Exclusive type 1 bathroom with double shower; Family type 1 bathroom with bathtub
Bathroom
Exclusive type 1 bathroom with double shower; Family type 1 bathroom with bathtub
Bathroom
1 bathroom with bath and 1 separate toilet
Bathroom
1 bathroom with double shower and large round bathtub
Bathroom
2 bathrooms with double shower experience
Bathroom
1 bathroom with experience shower and 1 bathroom with large oval bathtub and double washbasin
Bedroom
Bedroom
Exclusive type: 1 double bed, 1 pull-out sofa bed (140*200 cm); Family type: 1 double bed (180*200 cm), 1 pull-out sofa bed (140*200 cm), 1 bunk bed (80*215 cm)
Bedroom
Exclusive type: 1 double bed, 1 pull-out sofa bed (140*200 cm); Family type: 1 double bed (180*200 cm), 1 pull-out sofa bed (140*200 cm), 1 bunk bed (80*215 cm)
Bedroom
In exclusive type: 1 double bed (180*200 cm) and 2 single beds (90*200 cm) combined. Family type: 2 single beds (90*200 cm), pull-out sofa bed (140*200 cm), bunk bed (80*215 cm)
Bedroom
1 double bed (180*200 cm), 1 pull-out sofa bed (140*200 cm)
Bedroom
1 double bed (160*200 cm), 1 double bed (180*200 cm), 1 sofa bed (140*200 cm)
Bedroom
1 double bed (180*200 cm), 1 pull-out sofa bed (140*200 cm), 1 L-shaped sofa bed