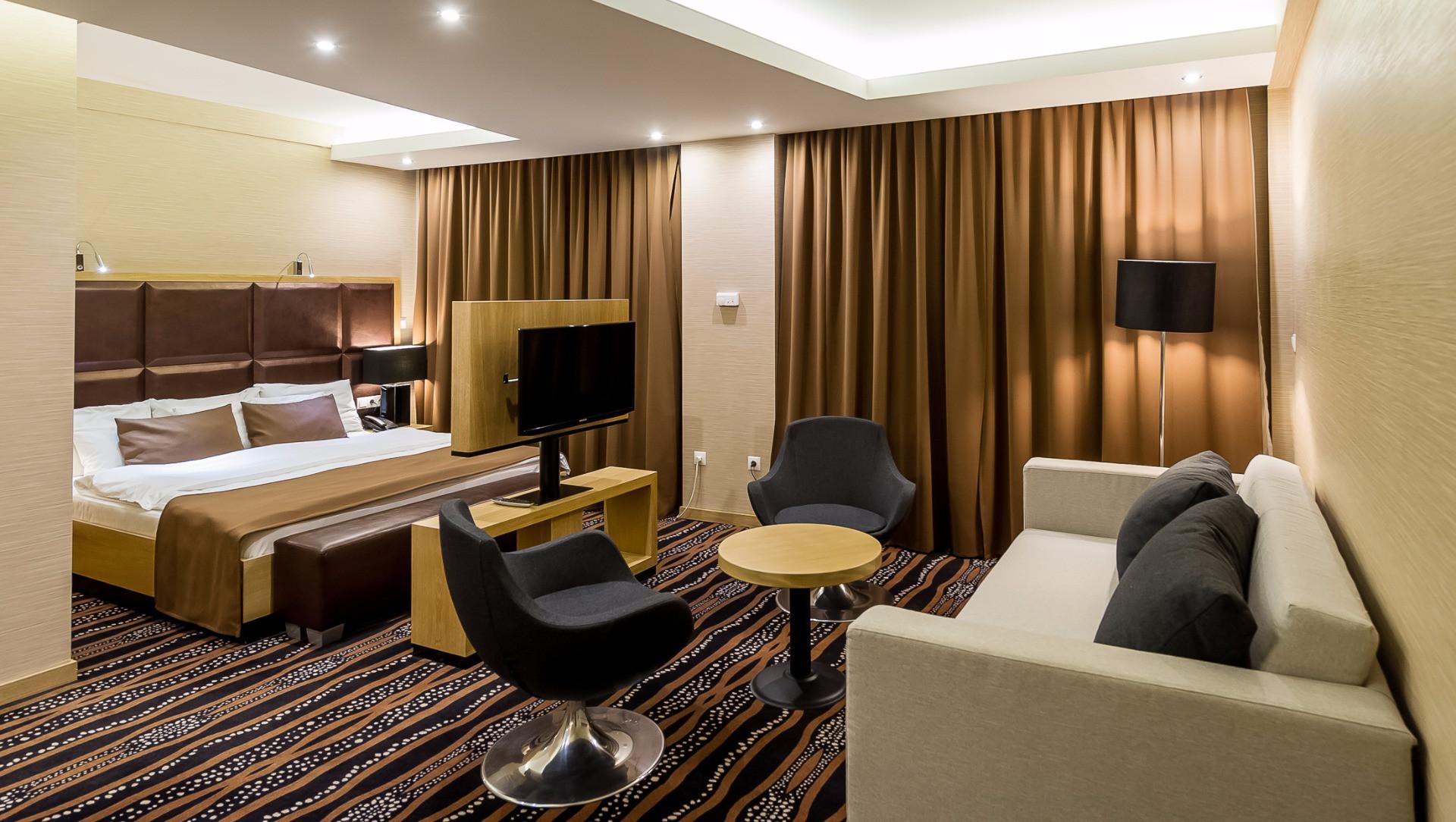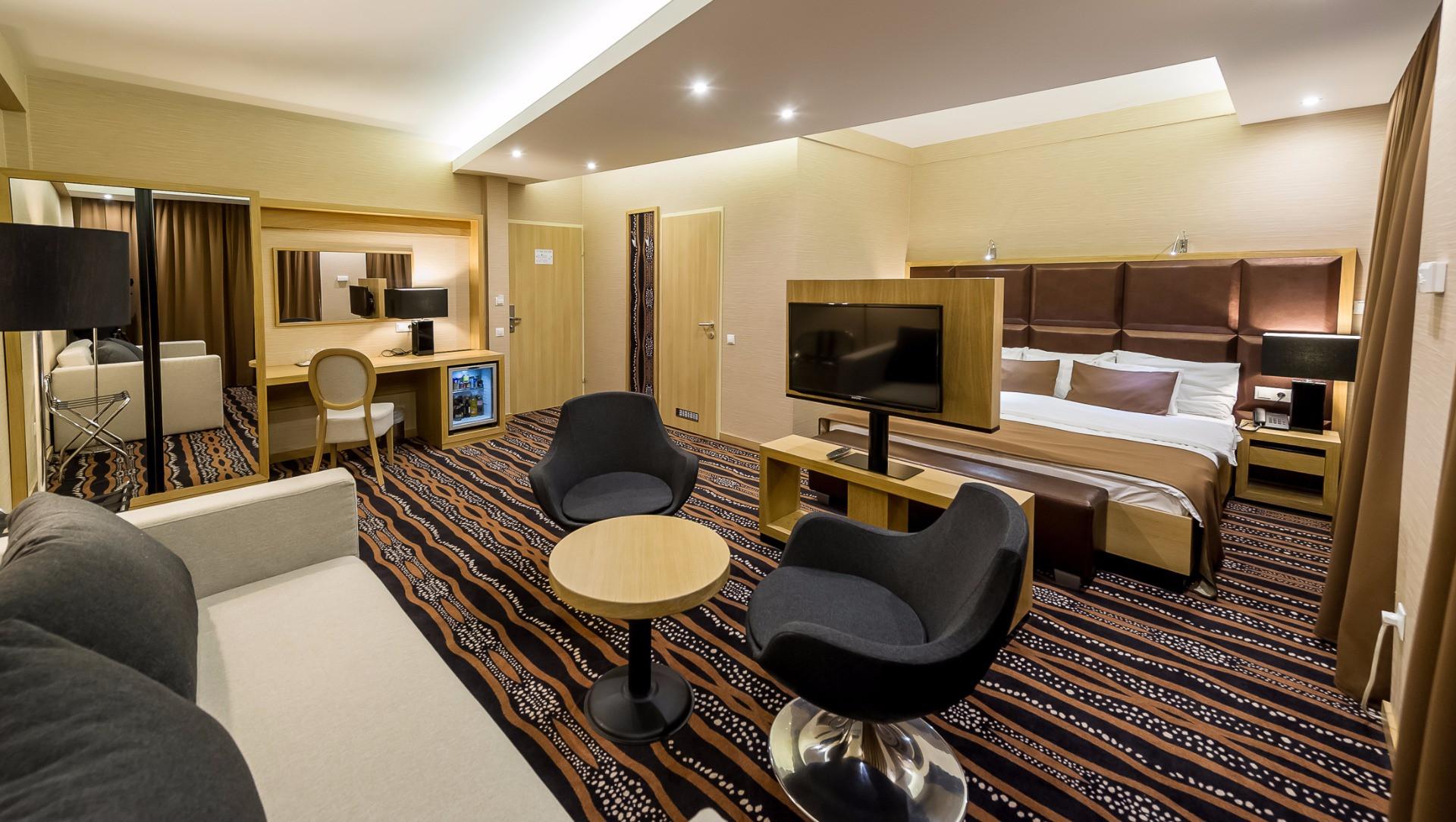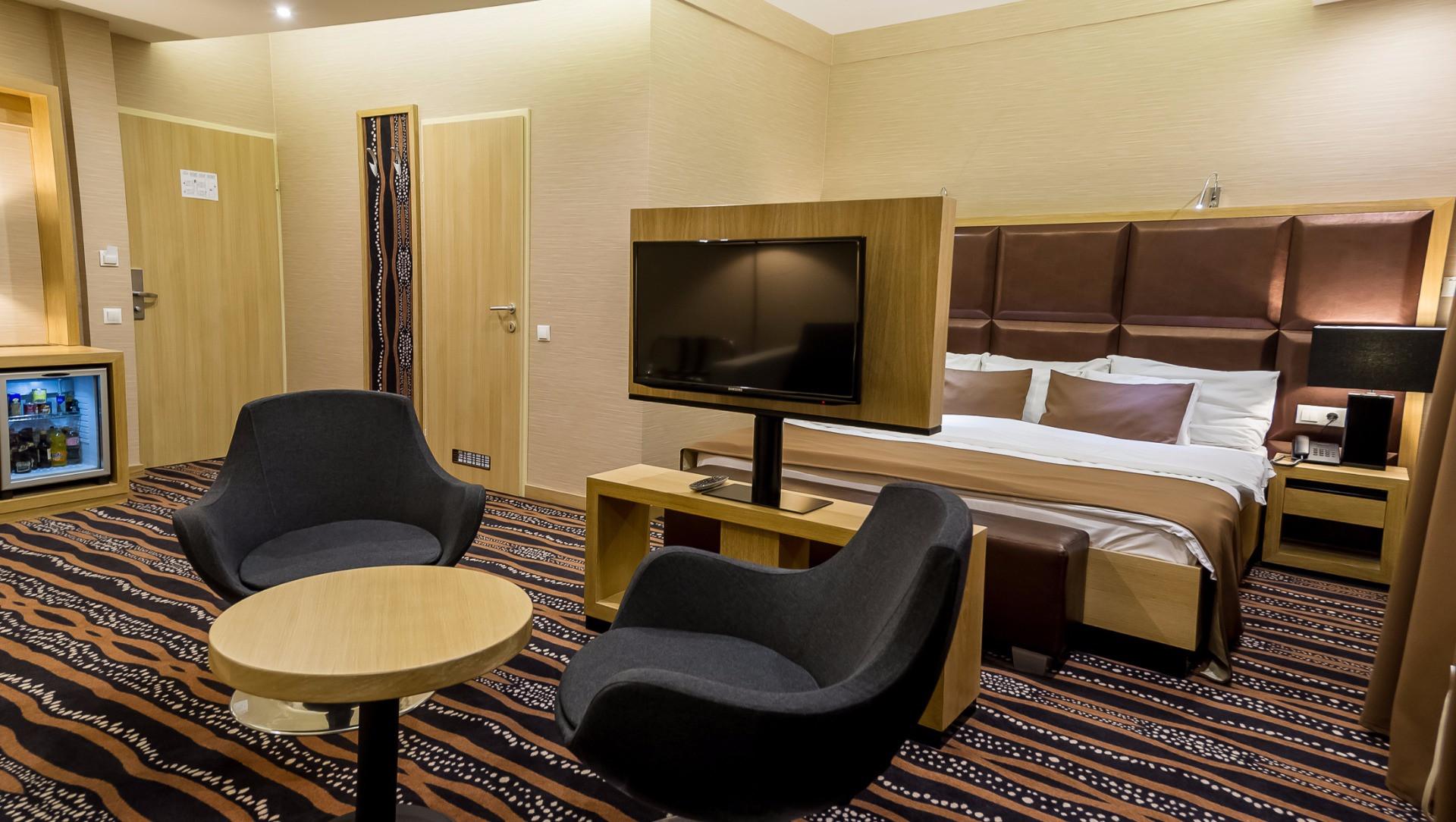 Junior Suite
Our hotel has a total of 17 Junior Suites (13 Exclusive Junior Suites and 4 Family Junior Suites ).
Our spacious suites serve the comfort of our guests with their huge room area. The guests of our Junior Suite can enjoy the idyll of the Great Forest from their large balcony. The design of this suites was inspired by the sense of freedom reflected by the combination of the merged rooms and the uniqueness of the furniture. In the one-roomed suites, a rotatable television ensures that one can enjoy one's favourite programme not only lying in the large double bed, but even sitting on the comfortable sofa or in the armchair. One of the specialties of our Junior Suites is the exclusively designed bathroom with a large shower cabin making the minutes spent within to be an experience.
We also offer parents with small children the safety of home with the one-room suites, as they can stay in one room comfortably in our Hotel.
The Exclusive Junior Suite is an ideal choice for families with bigger kids as well or for business guests for whom not only the comfortable relaxation is necessary, but the possibility of work well into the night either at the desk or in a comfortable armchair. Of course, the Suites are also suitable for the accommodation of more guests. Besides the large double bed, there is a pull-out sofa bed offering a comfortable solution for up to 4 persons (maximum 3 of them can be adults).
In our Family Junior Suites, besides the double bed, there is a bunk bed and a comfortable double pull out sofa bed to ensure the accommodation of even five people (maximum 3 of them can be adults).
In addition to the services below, of course each room has free WIFI access, telephone, reading lamp, hairdryer, minibar, room service, unique bathroom amenities (shampoo, shower gel, soap, body lotion, shower cap) and bathrobes for adults.
Rooms
Junior Suite
Double Rooms
Deluxe Suite
Luna Deluxe Suite
Sol Deluxe Suite
Terra Deluxe Suite
Bathroom
Bathroom
Exclusive type 1 bathroom with double shower; Family type 1 bathroom with bathtub
Bathroom
Exclusive type 1 bathroom with double shower; Family type 1 bathroom with bathtub
Bathroom
1 bathroom with bath and 1 separate toilet
Bathroom
1 bathroom with double shower and large round bathtub
Bathroom
2 bathrooms with double shower experience
Bathroom
1 bathroom with experience shower and 1 bathroom with large oval bathtub and double washbasin
Bedroom
Bedroom
Exclusive type: 1 double bed, 1 pull-out sofa bed (140*200 cm); Family type: 1 double bed (180*200 cm), 1 pull-out sofa bed (140*200 cm), 1 bunk bed (80*215 cm)
Bedroom
Exclusive type: 1 double bed, 1 pull-out sofa bed (140*200 cm); Family type: 1 double bed (180*200 cm), 1 pull-out sofa bed (140*200 cm), 1 bunk bed (80*215 cm)
Bedroom
In exclusive type: 1 double bed (180*200 cm) and 2 single beds (90*200 cm) combined. Family type: 2 single beds (90*200 cm), pull-out sofa bed (140*200 cm), bunk bed (80*215 cm)
Bedroom
1 double bed (180*200 cm), 1 pull-out sofa bed (140*200 cm)
Bedroom
1 double bed (160*200 cm), 1 double bed (180*200 cm), 1 sofa bed (140*200 cm)
Bedroom
1 double bed (180*200 cm), 1 pull-out sofa bed (140*200 cm), 1 L-shaped sofa bed